Animation Module
Introduction​
Animations will lighten up any experience and are a real joy factor of the LoyJoy Platform. They are played as background animation within the chat UI (User Interface). There are several great animations included into LoyJoy you can choose from! This article covers the many different ways you can use them to wow your customers.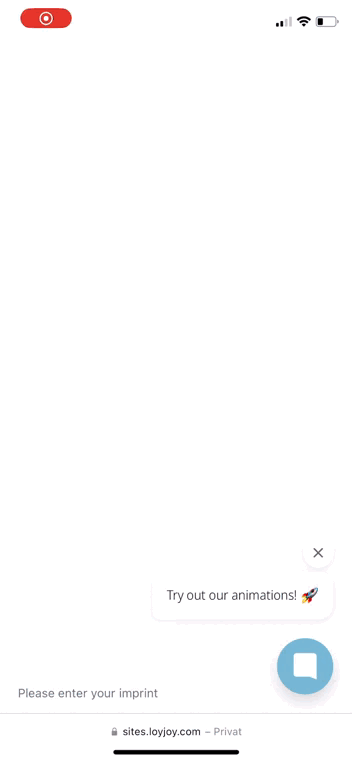 Typical Use Cases​
For example, you can use animations for raffles, events including holidays, or other occasions. Within a raffle, you can include different animations depending on how the customer chooses to answer a question. They are also a lot of fun to use for your festive experiences such as advent calendars, easter bots or sporting events. In short, the purposeful use of gamification elements like animations can enhance any experience. We have Animations from the following categories:
Easter (Bunnies, Easter Eggs)
Christmas (Christmas tree, Santa, Gifts, Stockings)
Seasons (Snowflakes, Pumpkins, Pine Cones)
Other (Confetti, Unicorn, Fireworks, Balloons)
And many more!
How to Use the Module​
There are different ways to include animations into your chat experience.
Add the module Animation to your experience of choice. Select the animation from the dropdown menu.
Add an animation to the questionnaire or quiz module as a reaction to an answer
Useful Tips​
Use the template experience Animation to see each animation in action before adding it to your own experience and try them out in one place! You can find instructions on how to use templates right here. If you want to use more customized animations, feel free to try out our Lottie animations module, and upload your own lottie files.